2021.08.11
– Tradition and innovation –
Kamon - traditional Japanese emblem - the work appears in three dimensions and is suspended in the air thanks to the minimal and technological suspension system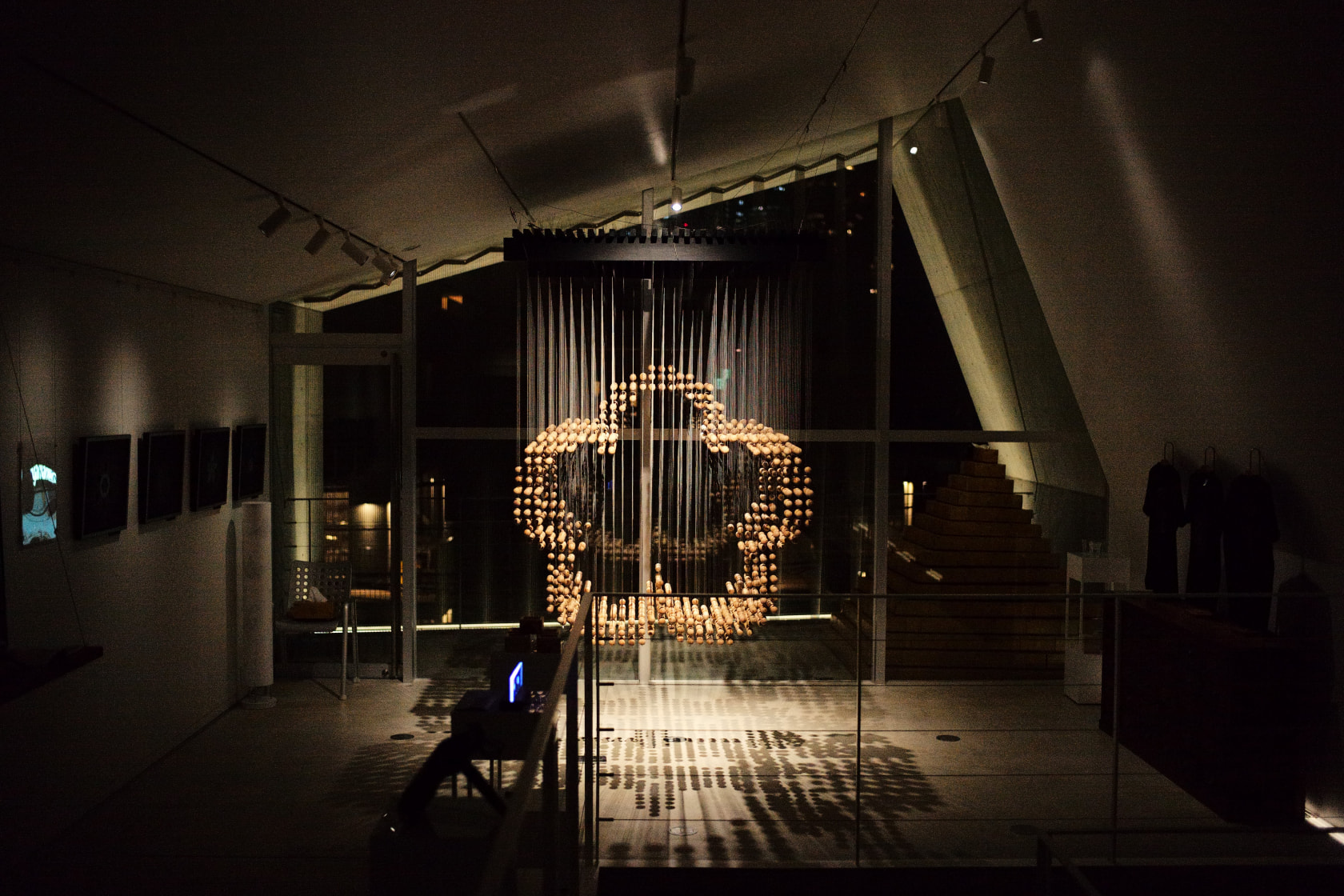 USARA front (Prunus Ume), Kamon Exhibition @Arakawa Tires Gallery April 2018

April 2017 in Japan an absolutely new artwork was presented: Kamon (traditional Japanese emblems) three-dimensional and suspended in the air. Born in collaboration with two artisans: Kamon designer (heraldic painters), Mr. Syoryu Hatoba and Mr. Yohji Hatoba (father and son), and the manufacturer of the suspension systems, Arakawa Co., Ltd. The encounter between Kamon design and Arakawa technology has opened a new view on the expressiveness of art and product. Mr. Syoryu Hatoba tells us this experience:
What is Kamon?
In the West, the coat of arms is a symbol of a privileged aristocrat, while the Japanese one has been used by many peoples. Originally, Kamon was an individual emblem born from the noble culture of the Heian period (8th and 12th centuries AD). At that time, Kamon was used only by the upper class as a status symbol. Later, during the samurai era (after the 12th century AD), it was applied to flags and a fabric fence in the military encampment as a mark to distinguish between enemies and allies. When it turns to the Edo period (17th to Mid 19th centuries AD), an era when people enjoyed peace, in addition, t aristocrats and samurai, the general people were also allowed to have Kamon as their identity Kamon culture has spread throughout the country.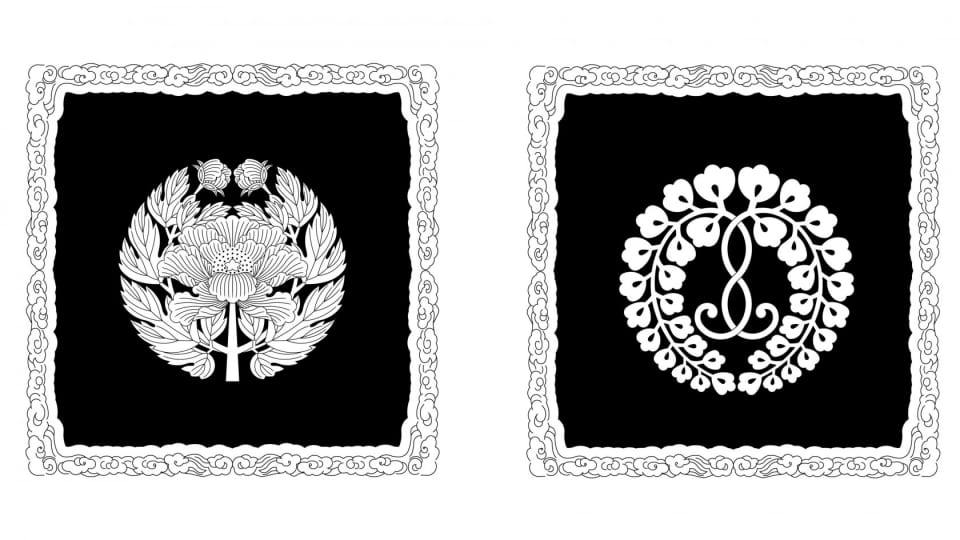 Kamon was used by the Fujiwara clan, a family of the aristocratic class in the Heian period
(Left: peony of the Konoe family, Right: wisteria of the Kujo family)
Current use of Kamon
Kamon still remains on ceremonial kimonos and is carved in the tombs to identify a family, but it is a fact that kamon culture has gradually disappeared due to the influx of Western culture. In the olden days, the Kamon were used for various purposes, but now it is difficult to find them in daily life. In order to let people know more about Kamon, we hold a workshop called "Monkirigata", which was developed during the Edo period (1603-1868). It is a play to make Kamon by folding origami geometrically, cutting it according to the pattern, and opening it.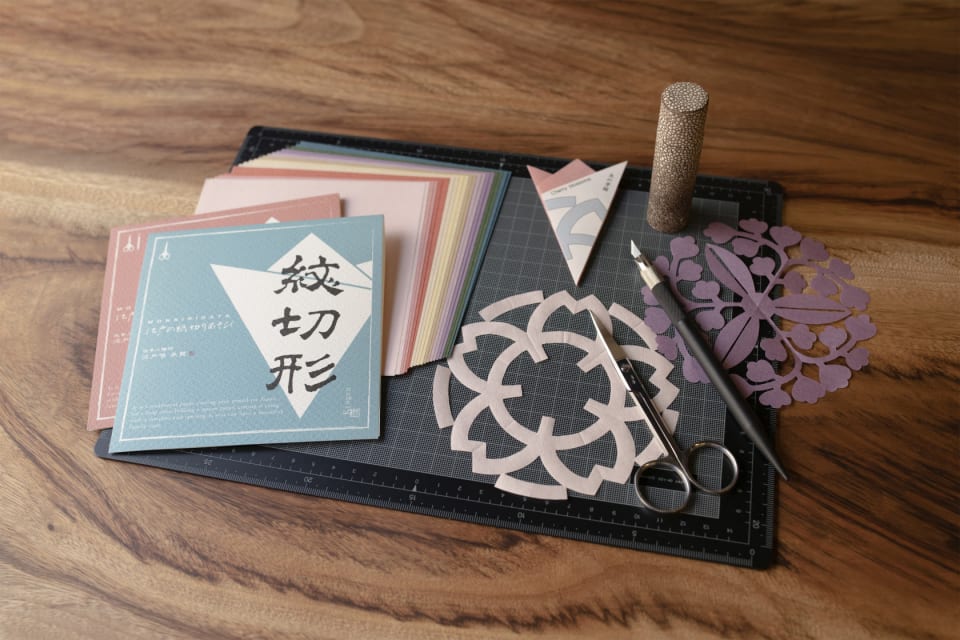 Monkirigata
Could the meaning of Kamon be reconsidered?
I think today it is quite difficult to convey the importance of the Kamon culture to be handed down. And that's why I decided to communicate the potential of Kamon's design, and that's how our current activities were born. As a result, I now feel that the design of Kamon, which has been passed down for more than 1,000 years, is gradually being reconsidered. I think its design can be classified in graphic design in today's society.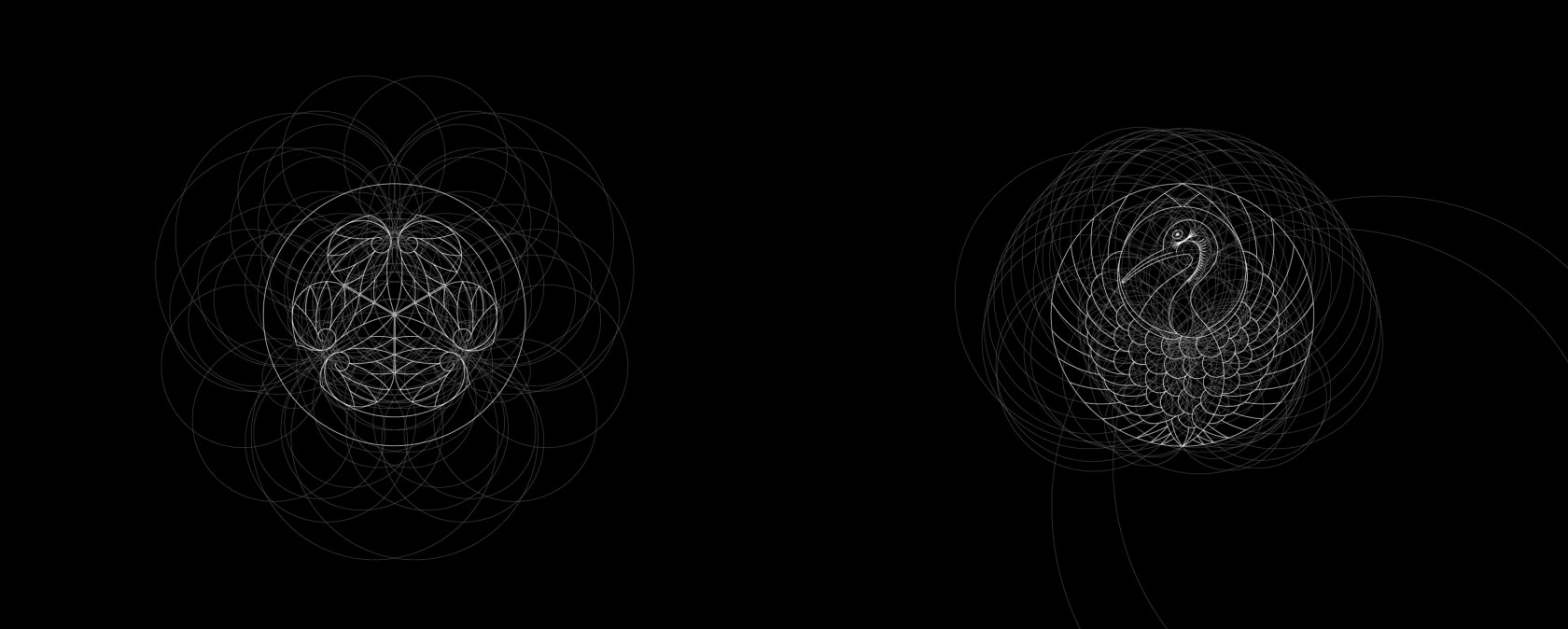 Mon-Mandala (Shoryu Hatoba's original artwork)
(Left: Aoi/ Asarum caulescens Maxim, famous Kamon for Tokugawa, the ruler of Edo period, Right: Tsuru- no-maru / Crane in a circle )
*Mon-Mandala represents a unique artwork developed by Shoryu Hatoba, where the "traces of circles and lines" are intentionally visualized unlike traditional methods of drawing Kamon.
The Involvement of Yohji Yamamoto's collection in Paris 1998
Personally, Yohji Yamamoto is my favorite brand, and I even named my son Yohji. A few years ago, one of my friends introduced me to Yohji Yamamoto and we had dinner together. One day, a phone call came from his office and they said "Please freely express Yohji Yamamoto's vision with your original Mon-Mandala technique for Yohji Yamamoto's next collection." When I drew cobra, tarantula, scorpion, etc., using my original Mon-Mandala technique, they were immediately adopted as design motifs.  It was great honor to be involved in the work of the designer Yohji Yamamoto, who I admire.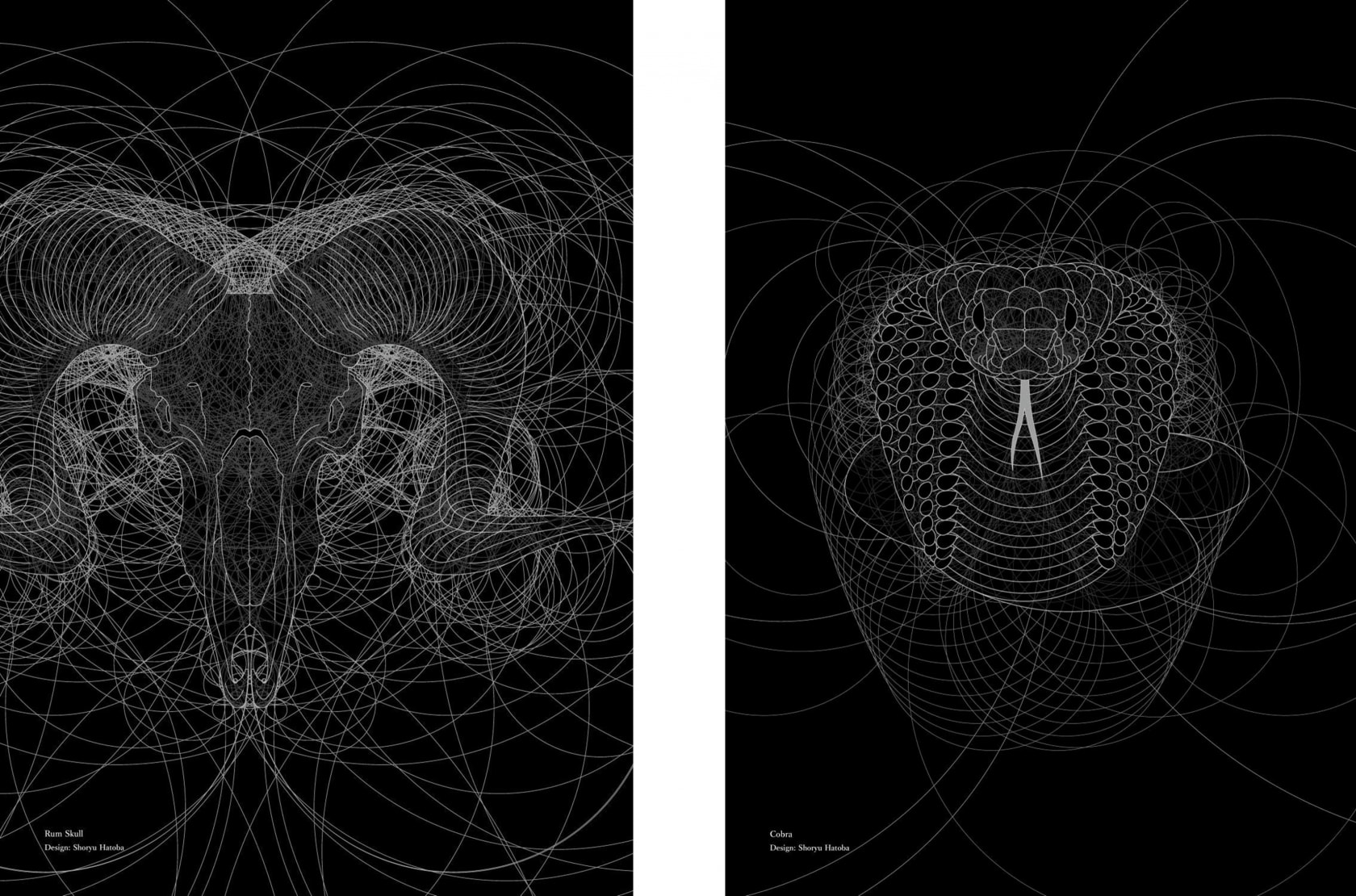 The motifs are featured at the Yohji Yamamoto POUR HOMME AW 2019/2020 collection.
(Left: Mon-Mondala-ram skull, Right: Mon-Mandala-Cobra )
What other sectors are you interested in besides fashion?
The world of cars and architecture. Kamon is usually worked in 2D, and for this reason, I have always wanted to make it in 3D. When I visited the workshop of my friend, a wood artist, I got the idea of how to work in three dimensions. And at the same time, I met with two key partners: the producer of the cedar balls, Jisughi from Yakushima, and the suspension system, Arakawa. Thus was born the three-dimensional work of art "Usara".

Kamon Exhibition @Arakawa Tires Gallery - April 2018 (Left: USARA front / Prunus mume Ume and cherry trees. Right: USARA diagonal view)
Usara is created with the plum and cherry blossom motif, how was it made?
It was spring that we created Usara. In particular, it was the period of the transition from plum blossom to cherry blossom. Comparing the tips of the petals, those of plum are round, while those of cherry are split and acute. I was curious about this difference and used it in my creation. Usara is made up of 2081 cedar balls (from Jisughi from Yakushima) suspended in the air (with Arakawa suspension system). I desperately needed to be able to adjust and stop the balls freely and also very easily one by one, even visually invasive. So it was a very important factor to use Arakawa's AU-72 mini hooks. I was surprised that when I suspended 2081 balls, that is, I used 2081 hanging hooks, but I didn't find a bad hook either.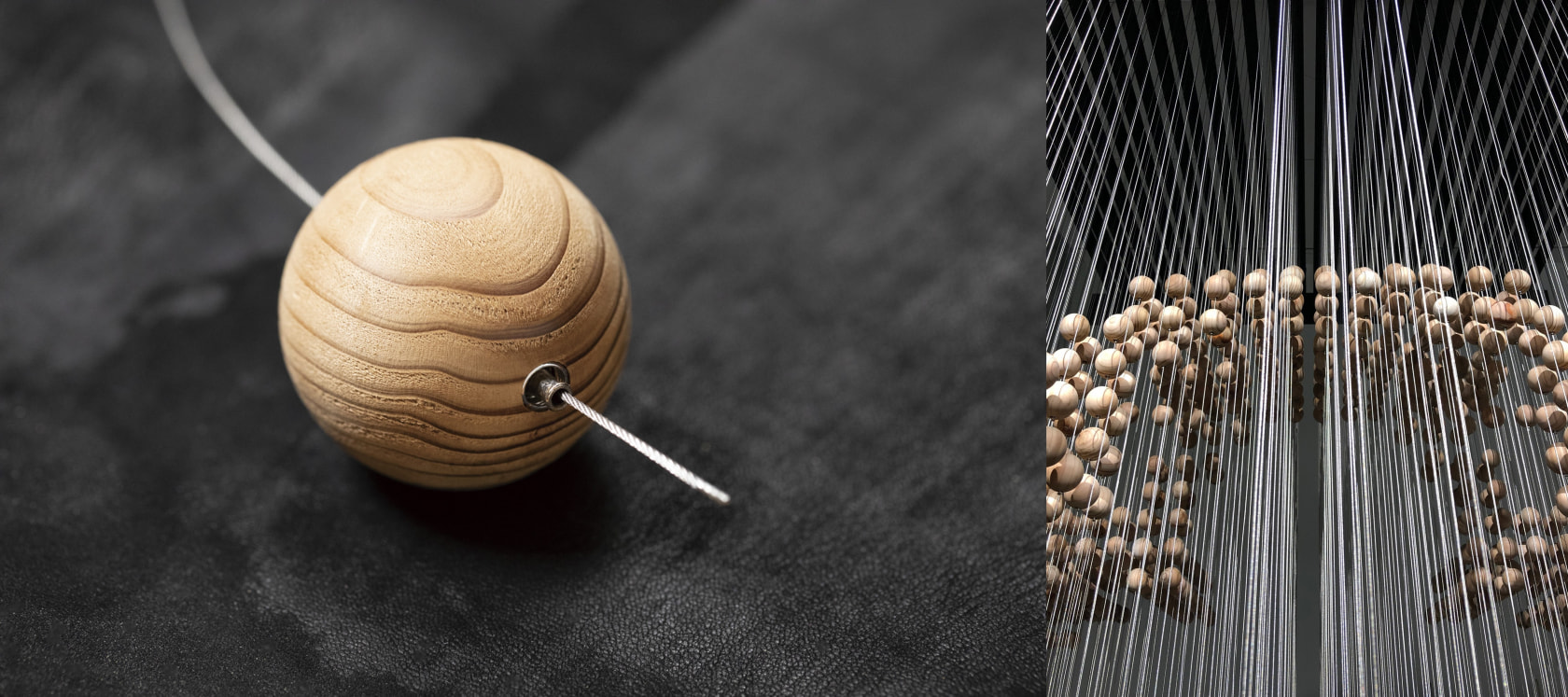 Kamon Exhibition @Arakawa Tires Gallery – April 2018 (Left: USARA details - Jisughi-Yakushima cedar ball threaded on Arakawa hook and cable, Right: USARA close up view – 2081 cedar balls suspended with steel cables)
Do you find the potential of design by combining graphics and products?
We have worked in a small traditional world of Kamon, so when designing products, we start by researching and knowing about the various materials. Our strength is the knowledge of countless types of Kamon and new ideas come from new encounters and inputs that expand our knowledge. That is why we value our relationships with people. Our work has been cultivated with a great commitment and a great desire to surprise and entertain those who have introduced work opportunities and asked inquiries. We are looking forward to new encounters in the future.

Left: Syoryu Hatoba (third generation of Kyogen, Heraldic painter) Right: Yohji Hatoba (Heraldic painter)
www.kyogen-kamon.com/
<USARA >
Wood Design Award 2018 Special Prize
Credit: Kyogen,
Channel original
,
AZOTH
, Arakawa
Dimension and weight: L1.555 × P1.700 × H2.170mm - 50kg
Price: 46.000 Euros (¥ 6,000,000) * excluding any transport and set-up costs
< Arakawa Grip Product information >
Suspension gripper: AU-72

Dimension: Φ6.3 × H9㎜
Good Design Award 2018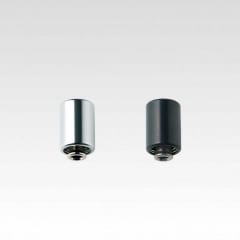 Interview, Translation, Editing:
TOL  STUDIO.inc